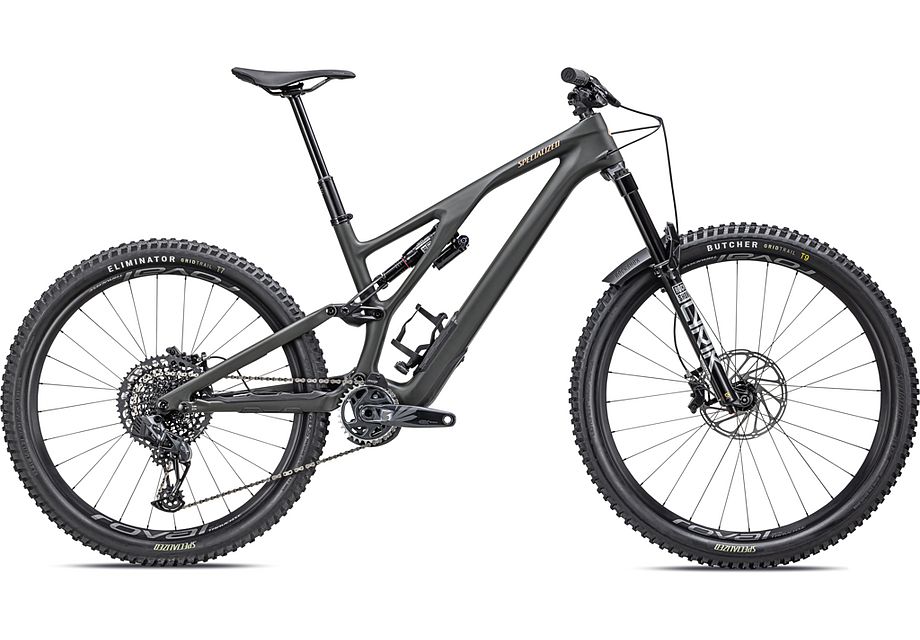 Art.Nr. 96323-7002
SJ EVO LTD DKMOS S2
Farbe: Satin Dark Moss Green
Größe: S2

Sofort abholbereit im Laden
pro Stück (inkl. MwSt.)
9.000,00 EUR
Produktdetails
What do you get when you pair a 29-inch front wheel with a 27.5-inch rear wheel? The Stumpjumper EVO LTD that's what. With all of the traction and handling benefits of a 29er but with a smaller more maneuverable rear wheel this mullet setup suits a more jibby playful style. It's right at home at the bike park and is a total blast to cut loose with on the trail.
To enhance its 29/27.5" get-rowdy wheel setup the Stumpjumper EVO LTD features a RockShox Super Deluxe Ultimate shock out back paired with a RockShox Lyrik Ultimate fork. Top it off with 30mm-wide alloy wheels and a SRAM Eagle drivetrain and the LTD is ready to party.
Innenlager: SRAM DUB, BSA 73mm, Threaded
Kassette: Sram XG-1275, 12-speed, 10-52t
Kette: SRAM GX Eagle, 12-speed
Kettenblätter: Steel, 30T
Kurbelgarnitur: SRAM GX Eagle Alloy, DUB, 165/170/175mm, 32t
Gabel: RockShox Lyrik Ultimate, Charger 3 RC2 W/ButterCups, 15x110mm, 44mm offset, S1: 150mm of travel, S2-S6: 160mm of travel
Rahmen: FACT 11m carbon chassis and rear-end, asymmetrical design, 29/27.5" Trail Geometry, SWAT Door integration, head tube angle adjustment, horst pivot BB adjustment, threaded BB, fully enclosed internal cable routing, 12x148mm dropouts, sealed cartridge bearing pivots, replaceable derailleur hanger, 150mm of travel
Bremse vorne: SRAM Code RS, 4-piston caliper, hydraulic disc, 200mm
Nabe vorne: Roval, sealed cartridge bearings, 15x110mm spacing, 28h
Reifen vorne: Butcher, GRID TRAIL casing, GRIPTON T9 compound, 2Bliss Ready, 29x2.3"
Lenkerband/Griffe: Deity Grips
Lenker: Specialized Trail, 7050 alloy, 8-degree backsweep, 6-degree upsweep, 30mm rise, 800mm, 35mm clamp
Inner Tubes: Standard, Presta Valve
Bremse hinten: SRAM Code RS, 4-piston caliper, hydraulic disc, 200mm
Rear Derailleur: SRAM GX Eagle AXS, w/ battery cover
Nabe hinten: Roval DT Swiss 370, Ratchet LN, SRAM XD driver body, 12mm thru-axle, 148mm spacing, 28h
Rear Shock: Rock Shox Super Deluxe Ultimate, Rx Trail Tune,RC2T Damper, Hydraulic Bottom Out control , S1:210x50mm, S2-S6:210x55mm
Reifen hinten: Eliminator, GRID TRAIL casing, GRIPTON T7 compound, 2Bliss Ready, 27.5 x 2.3"
Felgen: Roval Traverse 29 Alloy, 30mm inner width, hand-built, 2Bliss Ready
Sattel: Bridge Comp, Hollow Cr-mo rails, 155/143mm
Sattelklemme: Alloy, 38.6mm
Seatpost: OneUp, Dropper Post-V2, MMX lever, 34.9 (S1:120mm, S2/S3:150mm, S4: 180mm, S5/S6: 210mm)
Schalthebel: SRAM GX Eagle AXS Controller
Speichen: DT Swiss Competition Race
Lenkervorbau: Alloy Trail Stem, 35mm bar bore
SWAT: Increased-volume SWAT Door integration with 22oz SWAT Bladder
Specialized Stumpjumper EVO LTD Satin Dark Moss Green S2
EUR
9000,00
In Stock
0888818887804
What do you get when you pair a 29-inch front wheel with a 27.5-inch rear wheel? The Stumpjumper EVO LTD that's what. With all of the traction and handling benefits of a 29er but with a smaller more maneuverable rear wheel this mullet setup suits a more jibby playful style. It's right at home at the bike park and is a total blast to cut loose with on the trail.To enhance its 29/27.5" get-rowdy wheel setup the Stumpjumper EVO LTD features a RockShox Super Deluxe Ultimate shock out back paired with a RockShox Lyrik Ultimate fork. Top it off with 30mm-wide alloy wheels and a SRAM Eagle drivetrain and the LTD is ready to party.Innenlager: SRAM DUB, BSA 73mm, ThreadedKassette: Sram XG-1275, 12-speed, 10-52tKette: SRAM GX Eagle, 12-speedKettenblätter: Steel, 30TKurbelgarnitur: SRAM GX Eagle Alloy, DUB, 165/170/175mm, 32tGabel: RockShox Lyrik Ultimate, Charger 3 RC2 W/ButterCups, 15x110mm, 44mm offset, S1: 150mm of travel, S2-S6: 160mm of travelRahmen: FACT 11m carbon chassis and rear-end, asymmetrical design, 29/27.5" Trail Geometry, SWAT Door integration, head tube angle adjustment, horst pivot BB adjustment, threaded BB, fully enclosed internal cable routing, 12x148mm dropouts, sealed cartridge bearing pivots, replaceable derailleur hanger, 150mm of travelBremse vorne: SRAM Code RS, 4-piston caliper, hydraulic disc, 200mmNabe vorne: Roval, sealed cartridge bearings, 15x110mm spacing, 28hReifen vorne: Butcher, GRID TRAIL casing, GRIPTON T9 compound, 2Bliss Ready, 29x2.3"Lenkerband/Griffe: Deity GripsLenker: Specialized Trail, 7050 alloy, 8-degree backsweep, 6-degree upsweep, 30mm rise, 800mm, 35mm clampInner Tubes: Standard, Presta ValveBremse hinten: SRAM Code RS, 4-piston caliper, hydraulic disc, 200mmRear Derailleur: SRAM GX Eagle AXS, w/ battery coverNabe hinten: Roval DT Swiss 370, Ratchet LN, SRAM XD driver body, 12mm thru-axle, 148mm spacing, 28hRear Shock: Rock Shox Super Deluxe Ultimate, Rx Trail Tune,RC2T Damper, Hydraulic Bottom Out control , S1:210x50mm, S2-S6:210x55mmReifen hinten: Eliminator, GRID TRAIL casing, GRIPTON T7 compound, 2Bliss Ready, 27.5 x 2.3"Felgen: Roval Traverse 29 Alloy, 30mm inner width, hand-built, 2Bliss ReadySattel: Bridge Comp, Hollow Cr-mo rails, 155/143mmSattelklemme: Alloy, 38.6mmSeatpost: OneUp, Dropper Post-V2, MMX lever, 34.9 (S1:120mm, S2/S3:150mm, S4: 180mm, S5/S6: 210mm)Schalthebel: SRAM GX Eagle AXS ControllerSpeichen: DT Swiss Competition RaceLenkervorbau: Alloy Trail Stem, 35mm bar boreSWAT: Increased-volume SWAT Door integration with 22oz SWAT Bladder